The Bamboo Crew Neck T is the staple piece your closet needs! This top is the perfect T-shirt.
DETAILS
This top features a raw edge hemline and classic round neckline. Made with our soft and breathable natural bamboo fabric. Whether you're dressing it up or keeping it casual and heading to the gym, you can't go wrong with the perfect T-shirt.
HOW TO STYLE
While styling a T-shirt may be second nature, we thought we'd give you some ideas just in case you need some inspiration! We've put together four of our favourite ways to wear the Bamboo Crew Neck T. The first way to style is shown above, try the Granite T-shirt tied in the front with our Organic Cargo Shorts in Black!
The second look is with Combat T-shirt, worn with our Daytripper Leggings in Zeppelin. On cooler days, the Bamboo Pocket Hoodie in Zeppelin is a great option for layering!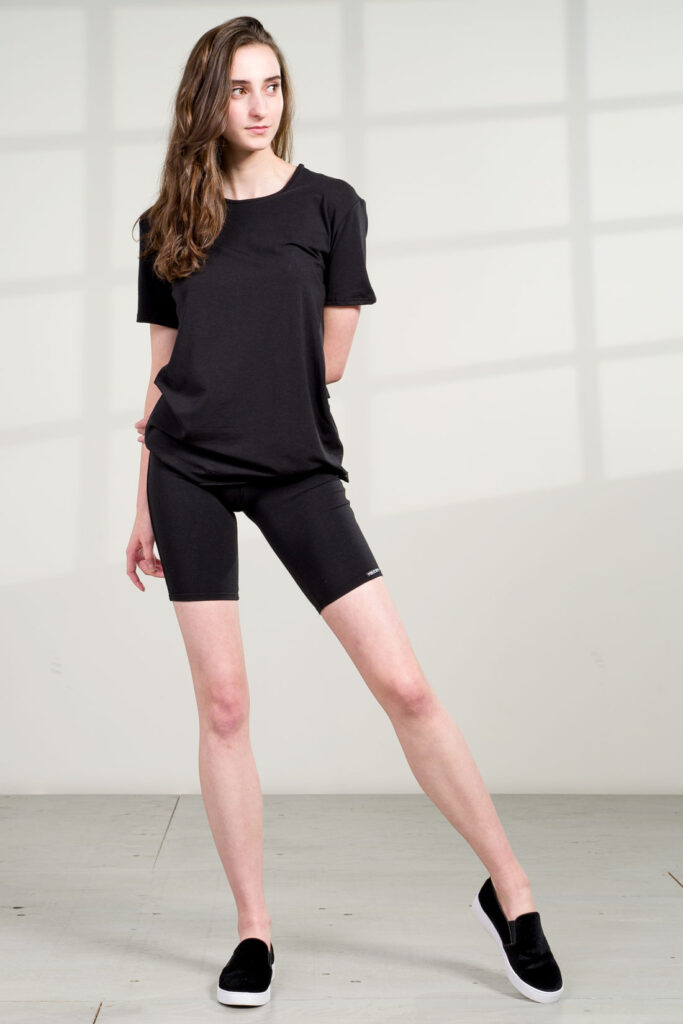 Our next outfit is perfect for when you want to keep it casual but still look put together. Try the Black Bamboo Crew Neck T worn with the Bamboo Biker Shorts. This outfit is a classic for a reason!
Another way to wear the T-shirt is to tie it in the front! For this look we paired the Merlot Bamboo Crew Neck T with our Bamboo Pocket Leggings 2.0 in Combat. This outfit also looks great with our Organic Cargo Hoodie in Combat tied over your shoulders if you get warm!
If you try any of our styling tips or have any of your own, be sure to take us on Instagram! We love seeing your style!
WHY WE MADE IT
We made the Bamboo Crew Neck T to give everyone a sustainable option for this closet staple. This top stands out from the others because it is made with people and the planet in mind. The high quality sustainable fabric and ethical manufacturing of this T-shirt means that it will last you years with proper care.
BENEFITS OF BAMBOO
Bamboo is the sustainable choice! Bamboo fabric is biodegradable, grown pesticide free, and uses trace amounts of water in the process. The regenerative nature of the plant ensures it's entirely regrown in weeks. Bamboo is also highly durable and absorbent, it wicks water away from the skin 4 times faster than cotton. This fabric promises breathability and temperature regulation. Bamboo possess a unique anti-bacterial and anti-fungal property called "bamboo kun" which keeps garments fresh and pure. It is also very hygienic as odour-producing bacteria cannot grow and spread.
Activewear made with heart and soul in Vancouver, BC, Canada
For more information on our company and the fabrics we use, click here.