Spooky season is here! If you're like us, you love any excuse to dress up. No matter what you're doing this year, you can still have some fun! We've put together a collection of costume inspired outfits you can wear all year long! The best part about these outfits is that they're all gym friendly Halloween costumes. Whether you're going to a Halloween theme class or just like to be in costume on the big day, we've got you covered!
Not your basic witch! Try your hand at potion making in our Black Bamboo Pocket Flare Pants with our Black Bamboo Crop V Tank! You don't even need to change when you go put a spell on your afternoon yoga class. This outfit is the best of both worlds!
Attention! We may have just found the best military inspired outfit yet. Our Warrior 2.0 High Rise Leggings with the matching Cross Back Crop Cami will keep up no matter how rigorous your workout, or hectic the day. On those chilly fall days, the Combat Organic Cotton Cargo Hoodie compliments this outfit perfectly.
Fuzzy Wuzzy wan't very fuzzy was he? Get into the spooky spirit with this out of the box costume. Inspired by everyones favourite bear, this costume finally shows the true story of what happened to Fuzzy. Our Chocolate High Rise Leggings and Black Bamboo Short Sleeve Crop T Shirt will take you from story time right to your workout without missing a beat.
If you've made it this far and still need some more inspiration, don't worry! Take a look at last years costumes below or checkout our Halloween Collection here!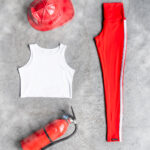 Previous
Next
If you decide to try any of these outfits, or have any other gym friendly Halloween costumes, tag us! We'd love to see what you come up with!
Activewear made with heart and soul in Vancouver, BC, Canada
For more information on our company and the fabrics we use, click here.